---
The rally starts today. Three Royal Navy boats have arrived, sixty-foot models of real boats, being a frigate, a destroyer, and a Polaris submarine. They looked quite odd with tiller steering until the superstructure had been added and the tillers removed.
Royal Navy narrow boats. Picture from The Stoke Sentinel
Joe and Rose Skinner were towed in to the canal basin on their butty boat Friendship, to the delight of everyone, who had thought that Friendship was going into dry dock that weekend.
Joe & Rose Skinner aboard their boat Friendship.
The rally itself was a bit noisy, with records playing all the time, and side-shows within a few yards, but it gave me an opportunity to meet people on the canal, apart from the usual hire boats. Bob Bush, the canal painter, was moored directly in front of me, and I made his acquaintance over several drinking sessions.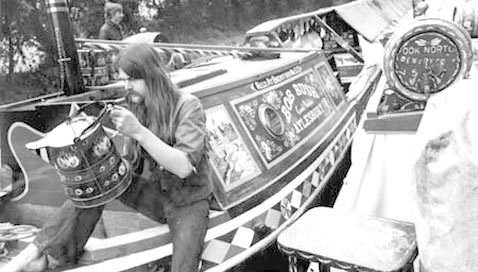 Bob Bush, canal painter.
There was a film crew making a record of the rally as well as a film about the Coventry Canal, and after meeting them, they invited me back to their digs for lunch. They hope to sell the completed film to a television company, but they are obviously more optimistic than I would be in their place.
---
---
This site is a member of the UK Waterways WebRing.
To browse visit Here.