---
After drifting down river last night until dark, I moored near a road bridge just short of Ely, and spent a comfortable night, punctuated by trains going over the nearby railway bridge, and detonating fog signals, which I learnt were put there because an express train came off the track yesterday.
In the morning, I discovered that a cow had chewed one of my mooring ropes, but luckily not badly, though it now has a green and crinkled look; I then drifted gently into Ely and moored just outside "The Cutter".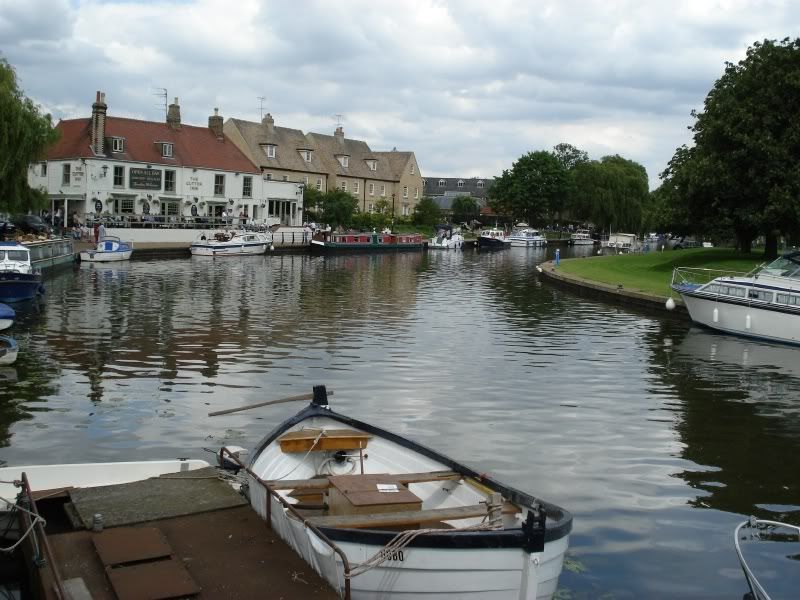 The Cutter pub on the River Ouse in Ely. Picture from http://www.justcanals.co.uk/
While having lunch, I got several surprised stares from passers-by, who looked in amazement while I prepared my mix-up of tomatoes, instant mashed potatoes, one egg, and some cheese; they did not realise how difficult it is to cook more than one thing at a time with only one pan and one burner. It tastes the same mixed up anyway.
In the pub afterwards, I played a good game of darts against two young men of about my age, who were in a hired cruiser going the other way. After exchanging information about the river ahead, we parted, they to their boat, and I to the town. I believe it should be called a city, because of the cathedral, which I visited and admired, although it has only about ten thousand inhabitants. Coming from the river, one can appreciate why the area is called the Isle of Ely; in days gone by it must have been surrounded by water.
When I refilled my petrol can, the attendant at the waterside pump gave me another plastic container for water, which was most generous of him; what I really need now is another petrol can, for I do not want to run out of fuel on the Middle Level, in the middle of the Fens, in the middle of nowhere!
I eventually set off at about half past four, determined to keep going on one tankful and moor wherever it cut out. After a bit of spluttering, the motor soon settled down, and I had a pleasant cruise with the wind behind me, and the sun on my left.
The river is getting very wide now, I should say at least one hundred and twenty feet across, and in places it is very straight, with a view of up to two miles ahead, which makes for good practice in steering in a straight line. The motor cut out just North of Littleport, and I moored on a nettle-filled bank where there was a gap in the weed growth in the water. On the opposite bank there was a field of very fine horses which galloped up and down with their manes flying; the front runner all the time was a small foal. A magnificent sight, with the sun setting behind them.
After a meal, I walked back to the Black Horse at Littleport, where there was good company, plenty of conversation, and dubious jokes. One fellow, who was wearing a sweat shirt with a nude printed on it, which he said he bought in Great Yarmouth, offered me a five gallon plastic drum for petrol, and told me where he lived, which was just down river.
The landlord amused us all with some good stories, and then it was time to leave. It was so dark, that I found difficulty in locating the boat, but eventually I found it, and got off to sleep.
---
---
This site is a member of the UK Waterways WebRing.
To browse visit Here.