A Brief Description
PNDL stands for Place Notation Description Language.
PNDL is in essence a scripting language, designed to be read by a computer and translated into Place Notation. The requirement of not knowing the number of bells in advance was crucial, so it was decided that the quantity "n", meaning the number of "bells" being used should be set externally before converting PNDL to place notation. So, apart from "n", each script should contain everything required to generate place notation for any stage allowed for that particular method. That means that the limits or otherwise for the stages allowed for that method should be contained within the PNDL itself.
It was decided to make PNDL a "command based" language, in other words that it should consist of a list of commands to be executed in sequence, each command having a set of parameters associated with it. Each command should be as simple as possible, so it was also decided to use a single symbol for each command rather than a word. Another early decision was to use brackets to contain the list of parameters to a command, and further that brackets should be omitted where possible, that is to say when there were either one or no parameters, or in other words that brackets would be used only to surround a parameter list.
Some of the requirements for PNDL were:
A "Header" command to specify the method and the stages to be allowed.
An "Output" command to allow segments of place notation to be specified.
A "Loop" command so that place notation segments could be expanded.
Some means of allowing for symmetrical methods to be specified.
A built-in evaluator to allow the use of simple arithmetical expressions (such as "n-2" for instance).
The final specification included all of the above, and a few other refinements
Here is some PNDL that describes the method known as Cambridge Surprise: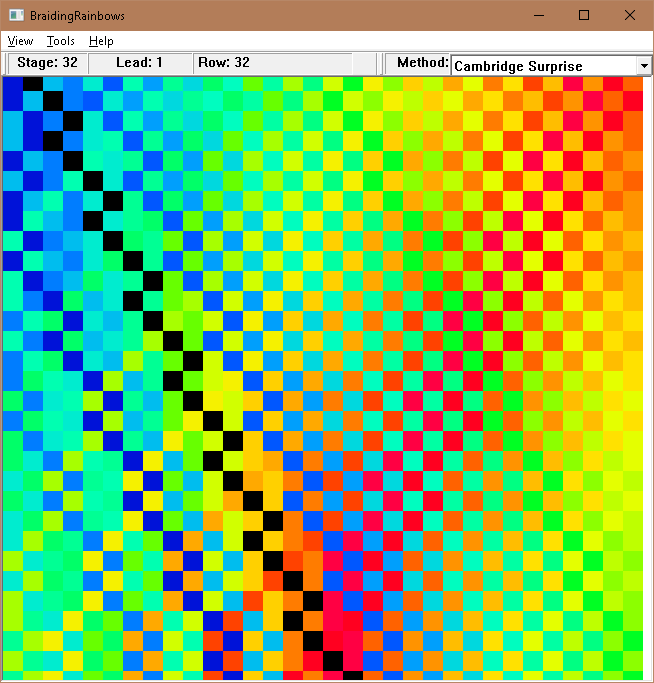 | | |
| --- | --- |
| | @("Cambridge Surprise", 6,~,2) |
| | \( |
| | 'x 3 x 4 x' |
| | !(8,n,2,'[i-6] [i-3] x [i-5] [i-2] x') |
| | '[n-4] x [n-3] x [n-2] x' |
| | ) |
| | '[n-1]' |
| | / |
| | '.12' |
| | ; |
Notes:
@("Cambridge Surprise", 6,~,2)
The @ is the symbol for the Header command. This command must be the first line, as the presence of the @ is a requirement for the script to be recognised as PNDL
The name of the method is enclosed in double quote marks
The 6 is the minimum stage
The "~" character means that there is no maximum stage. If, say, it were wished to limit a method to Major only (stage 8), all that is needed is to set both the minimum and maximum stages to 8.
The 2 means that the method extends in steps of 2, or in other words that all even stages are allowed.
\( and /
These are the Push and Pop commands. Within the brackets of the Push command, all output is stored, and then repeated in reverse order when the matching Pop command is reached.
'x 3 x 4 x' and '[n-4] x [n-3] x [n-2] x'
These are Output commands, being segments of place notation enclosed in single quote marks.
Anything in an Output command that is enclosed in square brackets will be evaluated. This can include n to mean the current stage as well as simple arithmetical expressions as above.
!(8,n,2,'[i-6] [i-3] x [i-5] [i-2] x')
This is the Loop command. It may contain any number of other commands, including two further nested Loop commands. The loop control variable for the first Loop command is i. Nested loops have variables j and k.
The 8 means that the value of i starts at 8 for the first time round the loop.
The n means that the loop will end when the value of i reaches the value of n in this case.
The 2 means that i will increment by 2 each time the loop goes round, and the loop will stop when i is greater than or equal to n. If the 2 were negative, i would decrement by 2 instead of incrementing, and the loop would stop when i would be less than or equal to n.
When n is 6, the Output command in this loop will not execute at all, as i starts at 8 and so is already greater than 6.
When n is 10, the loop will go round twice, once with i being 8 and once with i being 10. The Output command in the loop ('[i-6] [i-3] x [i-5] [i-2] x') will output '2 5 x 3 6 x' and '4 7 x 5 8 x' respectively.
'[n-1]'
This Output command is placed immediately after the end of the Push command, and represents the Half Lead change. This means that, because it is not stored by the Push command, it will not be repeated when the Pop command occurs.
'12'
This Output command is placed immediately after the Pop command, and in this case represents the Lead End change.
The Implications of PNDL
PNDL works well in specifying methods that extend easily and naturally, although it can sometimes be a little tricky working out exactly how to do it. It is not so good when dealing with more complicated methods than the example given of Cambridge Surprise. For that purpose, a Method Description Language would be required, one that could actually describe the defining features of a method, together with how it should extend if extensions are required. Such a language (MDL perhaps?) has not yet been developed but is certainly possible to create.
Being able to specify a method on any number of bells raises some potentially controversial issues too. PNDL insists on methods being given a name, and this implies that the name stays the same at all stages to which the method extends. For methods like Plain Bob, Grandsire, Cambridge Surprise, and so on, this is not a problem, but at present there is a convention that a method cannot be named at any stage until it has been rung in the real world on real bells. This means that, theoretically at least, Cambridge Surprise 32 cannot be so named until it has been rung on 32 actual bells. PNDL allows a method to be specified without regard to the number of bells, and indeed, for the method named Cambridge Surprise, if someone were to ring the exact same method on 32 bells and call it, say, Granchester Surprise, that name would almost certainly be struck down for the reason that the method was self-evidently Cambridge. It would seem that the issue is far from clear, and also quite far from being settled.
Using PNDL, it is also possible to define a method such that at certain stages the Place Notation can potentially be the same as another method. In conventional bell ringing terms this is considered not to be possible, but PNDL allows it. For example, the PNDL for Double Bob is as follows:
| | |
| --- | --- |
| | @("Double Bob",4,~,2) |
| | \( |
| | ' x' |
| | !(4,n,2,'1[n]x') |
| | ) |
| | '[n-1][n]' |
| | / |
| | '.12' |
| | ; |
which produces the following Place Notation at stages 4, 6, 8, and 10:
x14x34x14x12
x16x16x56x16x16x12
x18x18x18x78x18x18x18x12
x10x10x10x10x90x10x10x10x10x12
Now consider the PNDL for Double Oxford Bob:
| | |
| --- | --- |
| | @("Double Oxford Bob",4,~,2) |
| | \( |
| | ' x' |
| | !(4,n,2,'[i-3][i]x') |
| | ) |
| | '[n-1][n]' |
| | / |
| | '.12' |
| | ; |
If we allow this to start at stage 4 (and there is no particular reason why this should not be allowed), the following Place Notation is generated at stages 4, 6, 8, and 10:
x14x34x14x12
x14x36x56x36x14x12
x14x36x58x78x58x36x14x12
x14x36x58x70x90x70x58x36x14x12
At stage 4, the identical Place Notation is generated for both Double Bob and Double Oxford. I can see no reason why both methods cannot be allowed to coexist. Many other similar pairs of methods can undoubtedly be found that pose a similar conundrum.